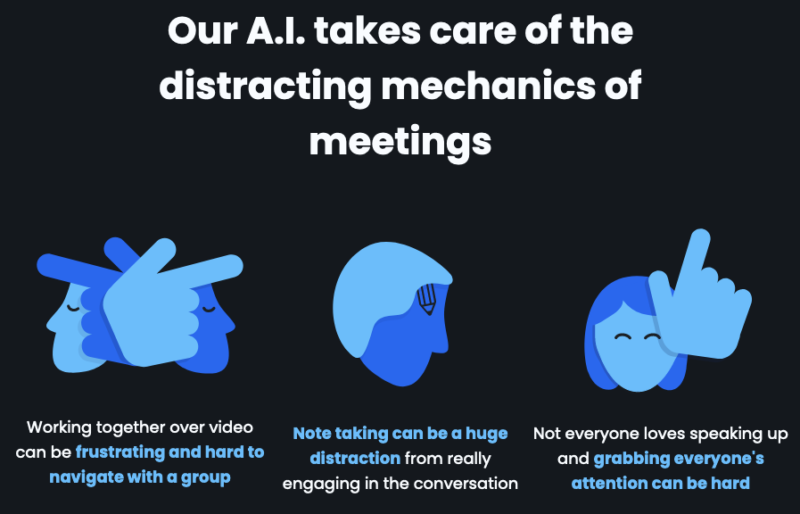 Julian Green was explaining the big problem with meetings when our meeting started to glitch. The pixels of his face rearranged themselves. A sentence came out as hiccups. Then he sputtered, froze, and ghosted.
Green and I had been chatting on Headroom, a new video conferencing platform he and cofounder Andrew Rabinovich launched this fall. The glitch, they assured me, was not caused by their software, but by Green's Wi-Fi connection. "I think the rest of my street is on homeschool," he said, a problem that Headroom was not built to solve. It was built instead for other issues: the tedium of taking notes, the coworkers who drone on and on, and the difficulty in keeping everyone engaged. As we spoke, software tapped out a real-time transcription in a window next to our faces. It kept a running tally of how many words each person had said (Rabinovich dominated). Once our meeting was over, Headroom's software would synthesize the concepts from the transcript; identify key topics, dates, ideas, and action items; and, finally, spit out a record that could be searched at a later time. It would even try to measure how much each participant was paying attention.
Meetings have become the necessary evil of the modern workplace, spanning an elaborate taxonomy: daily stand-ups, sit-downs, all-hands, one-on-ones, brown-bags, status checks, brainstorms, debriefs, design reviews. But as time spent in these corporate conclaves goes up, work seems to suffer. Researchers have found that meetings correlate with a decline in workplace happiness, productivity, and even company market share. And in a year when so many office interactions have gone digital, the usual tedium of meeting culture is compounded by the fits and starts of teleconferencing.